The New HPCSA CPD Self-Service Platform: Before you throw your Laptop out the Window, Read Here
11 February 2022: Update - Facilitators of CPD activities to submit CPD's attendance registers directly to HPCSA 
The HPCSA notified all members via email on the 11th of February 2022 of the following information:
"The practice of random sampling of practitioners from the HPCSA's database to verify compliance has been discontinued. The HPCSA has introduced a self-service platform on the HPCSA website for practitioners to submit queries and upload necessary evidence of CPD compliance in order to meet requirements in terms of Section 26 of the Health Professions Act. Practitioners will be able to upload certificates (not older than 24 months, level 3 activities) on an ongoing basis on the said platform.
The HPCSA has approved that the facilitators of CPD activities submit CPD's attendance registers directly to HPCSA in order to update practitioner's compliance towards CPD requirements. The submission of Continuous Education Unit (CEUs) certificates is no longer mandatory, for CPD activities taking place from 01 March 2022 as the compliance information will be received from the Accredited Providers and Accredited Service Providers, unless if such was obtained from international providers, published manuscripts and formal qualifications. These level 3 activities or any evidence of CPD compliance are not provided by provider.
The revisions regarding CPD facilitators submitted directly to HPCSA are only applicable for all activities which will take place from 01 March 2022, going forward, any attendance before the abovementioned dates will still need to be uploaded by practitioners on the HPCSA's portal. 
Click here for the CPD User Manual.
A notification will be sent to the practitioner's contact as soon as their CPD status is updated. The self-service portal on HPCSA website will remain available, in order to allow practitioners to log in and upload older certificates or raise a query. For more information or clarity on any matter stated above, please send email to: helenad@hpcsa.co.za"

The above means that some of your CPD activities will be uploaded by facilitators and you'll just get a notification, while you will still be responsible to upload other CPD activities (level 3 activities such as international providers, published manuscripts and formal qualifications).
Original blog post published on 3 May 2021 - Introduction to the new self-service platform
(I opted not to remove this original post as it contains valuable tips and tricks for those who need to upload level 3 information; please note that not all of the information in the original post will be relevant any longer)
On the 1st of April 2021 (interesting choice of date), many of my fellow healthcare practitioners received an email from the Health Professions Council of South Africa (HPCSA), asking them to upload their Continuing Professional Development (CPD) activities onto the new CPD Self-Service Platform before 30 April 2021. I did not receive this email, for some reason, and also not their reminder that was sent on the 28th of April. However, the South African Society of Physiotherapy (SASP) reminded me of this requirement, and I'm grateful to them. The practice of random sampling healthcare practitioners for audit is discontinued and now all practitioners are required to upload CPD activities. However, the compliance for CPD and loading of CPD certificates had been postponed to 31 May 2021 due to technical problems with the platform. I will keep updating this blog post as I get more information so that we can all learn from it. If you have not yet got around to tackle this to-do list entry, this blog post will help a lot.
I decided to climb this misty mountain on a Saturday afternoon in April. Not a good idea, because just the thought of me being stuck inside my study while I could have been on the beach having a sip of some exotic Pina Colada cocktail was awful (okay, I don't drink Pina Colada and we also don't live close to a beach, but you get the idea). The frustrations ran high, especially when that system threw its first error… more than 2 hours later I walked out of my study as a proud victor, having conquered what at a stage felt like the impossible. I decided to publish this blog post so that others can benefit from my experience.
Here are my top tips when it comes to tackling this daunting little task:
• Protect your physical and mental health, and allocate enough time to get your CPDs uploaded so that you don't have to deal with these frustrations under high pressure. The definition of "enough time" will depend on how many CPDs you have to upload and if they are the straightforward type or not. As an academic, mine was a bit more complex and it took me 2.5 hours, approximately (although I'm convinced I could have done it quicker if I knew then what I know now).
• Before you start (and I know this is a difficult one), read the manual. In the HPCSA email, they refer to a CPD manual which can be found here (but I saw it's also downloadable from this HPCSA page  – just be careful because at the time of publishing this blogpost, the above HPCSA webpage featured both what seemed like old and new information). Do go through this user manual as it gives good guidance on how to navigate the system. I have not repeated those instructions in this blogpost, but it is a good idea to follow them meticulously.
• Once you click on https://www.hpcsa.co.za/, you will find a large header in front of you and for a moment or two you will wonder why the screen does not look the same as the one in the CPD manual. Take a deep breath and scroll down a bit to find the "Quick Links" section where you can go to "Online Services".
• The Add New CPD screen does not look like what's in the HPCSA's CPD manual, but don't let it put you off, it's not very different. The actual screen looks like this: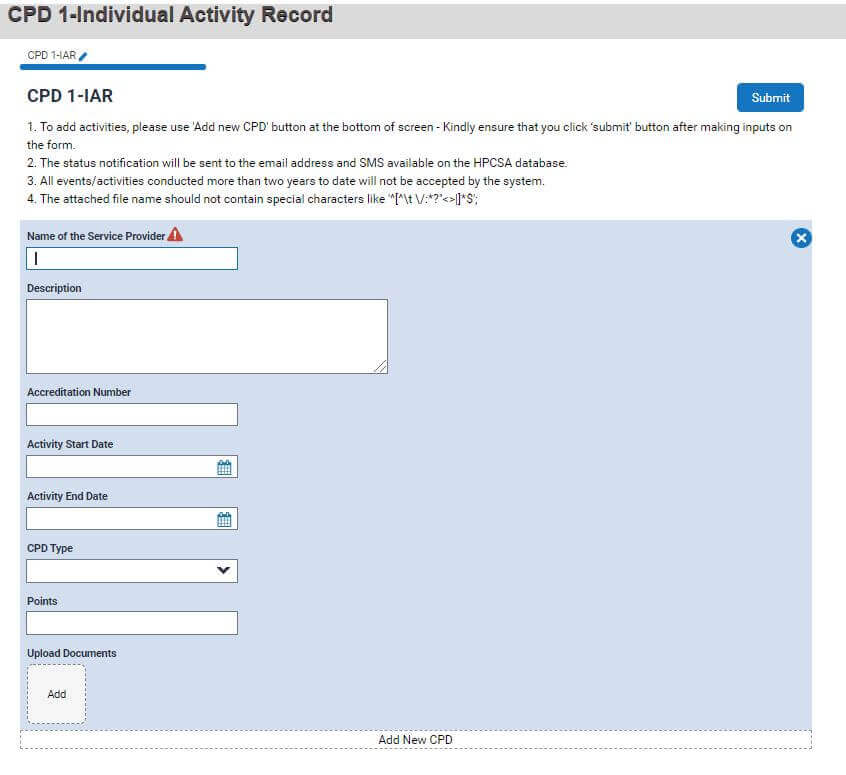 • Now to get to adding new CPDs: the system will allow you to add many CPD activities at the same time (without clicking submit; after submitting its quite a mission to find your way back to where you need to upload another CPD), but it's best to just add two at a time because you never know when it will surprise you with an error and then you need to redo all of them.
• The system does not like long descriptions. The length requirement is not stated anywhere and the system does not even tell you that it's your description that's the source of the error. Troubleshooting to get this figured out is where the bulk of my frustrations came in. It gives you an error, like the one in the screenshot below, if your description is over 22 words or something. I can't even give you the exact number of words because once that submit button is clicked, one can't go back and change anything. You can't even delete an entry. So do it right the first time.

• If the system does not allow you to type your information into the relevant boxes, try to copy and paste your information into the relevant boxes.
• Remember not to upload a file with any special characters in the file name, but at least this requirement is stated at the top of the screen where you upload a new CPD.
• Have a look at the CPD guidelines document, which is downloaded from this HPCSA page (at the time of publication of this blogpost, the CPD guidelines available on this page was dated July 2017). The information in here is especially valuable if you need to claim for CPDs which are not as straightforward as having a certificate with an accreditation number and CPD points allocated already. Scroll down to page 13, Learning Activities.
• The question that I get asked most frequently in my role as Research & Postgraduate Coordinator in the Physiotherapy Department at Wits, is how can one claim Continuing Education Units (CEUs) for an MSc or PhD. In the July 2017 CPD Guidelines, on page 16, you'll find some super valuable information: you can get your full 30 CEUs (including all much-needed ethics points) at the end of each year of study, although you can only claim this annually for the normal duration of the degree. Each degree has a timeframe in which it needs to be completed, for example, our Wits MSc Physiotherapy degree, if done part-time, will normally be completed in two years. When you enter this information onto the CPD Self-Service Platform, add a separate entry for each year of enrolment. Type "none" into the "Accreditation Number" box (as stated in the CPD guidelines page 16 "No prior approval by an accreditor necessary"). Add 25 under "Points" and choose "clinical" from the dropdown box. Then Add New CPD to create a new entry and do the same for the 5 points that you will allocate for ethics, so that you have two separate entries for each year of enrolment (one for clinical and one for ethics)(this information was provided by the HPCSA to a PhD student of mine after she queried). Upload official proof of enrolment. This entry will get verified by the HPCSA and you'll be informed if they need anything else. Please note, I have not had to get any of my postgraduate degrees verified before and therefore don't have any first-hand experience of this one. If anyone has any additional advice, please share.
And by the way, if you know any postgrad student who has not yet subscribed to the Research Masterminds YouTube channel, forward this recommendation to them as it will make their lives much easier!
• A colleague of mine emailed the HPCSA to find out how to upload CEUs for academic, peer-reviewed publications and articles reviewed. The HPCSA responded and said that she should upload a copy of the article (specifically the front page where your name appear) and enter the name of the journal into the "Name of Service Provider" box.
• In the same query referred to above, the HPCSA stated that one can upload the "thank you" email that you get from the journal once you reviewed a paper, as proof of papers reviewed, however, some journals keep the reviewers of their articles confidential and this thank you email has the name of the journal as well as the title of the paper on them. So this one is yet to be confirmed and does not seem to me like a viable way to go about things.
The intention of this blogpost was to save you 2 hours of frustration. If it did, go and spend it on something or someone you love. Also, if you have any additional tips that can make a colleague's life easier, please share them!
Keep well and happy,
Benita Olivier
Disclaimer: none of the above is thumb-suck, it is based on a true story filled with real-life experiences. I, therefore, cannot guarantee that you will have the same experiences or cannot take any responsibility for what you may perceive as factually incorrect information. I do not have any other relationship with the HPCSA other than being an active member and did not receive any monetary reward for putting this post together.