How to increase the number citations to your research paper
In a research paper, a citation refers to a source of information. In-text citations are used in the body of the paper, while end-of-paper citations are found in the reference list at the end of the paper.
You may wonder why one would want to increase the number of citations to one's paper. The number of times one's research paper is cited is used as a measure of the reach (also referred to by some as impact) of a researcher's work. The number of citations is used in various metrics, including the h-index (more about the h-index here). The h-index, although controversial, often play a role in career advancement and may increase your chances of obtaining funding. Citation metrics should be interpreted with caution and used responsibly. 
The more researchers are aware of your work, the greater chance that they will cite it in their own research and use it to make this world a better place. Our ultimate goal is not to create research for the sake of creating research but for that research to be used to impact society positively.
This blog post will share some ways in which one can increase awareness of one's work as a means to increase your citations. If you prefer to watch the video instead, scroll down. I'm sure there are many other ways; feel free to share these in the comments below this blog post or video.
1 Create high-quality research
The best place to start when it comes to increasing your citations is to create high-quality research. Stay abreast with the developments in your field and involve experts where needed. Produce relevant and impactful research outputs. All other tips in this video will allow your research to be discovered by fellow researchers.

2 Consider writing a review or concept paper
Review and concept papers are more frequently cited than other types of papers, so it may be worth including this type of paper in your collection of study types. For example, a paper explaining a sports injury prevention framework has the potential to be cited by many sports injury researchers. 
3 Publish in reputable journals
We often think we must publish in journals with high impact factors to get cited, but that is not the case. Also, publishing in an open-access journal does not necessarily guarantee more citations. A reputable journal in your field will do the trick just as well.
4 Use the same format of your name on all papers
The idea is that people in your field will get to know you as the expert, search for your papers and cite them. And, of course, they will be of high quality, making it easy for others to cite them without you having to convince anyone. But do pave the way for them by using a consistent format of your name. For example, John Doe may use his full name, John Lee Doe, on some papers but not on others. Just choose the best version of yourself and go with that. Luckily, if you have been inconsistent in the past, ORCID does help. More on that later.

5 Use your affiliation to your benefit
Ensure that you use an accurate affiliation when you publish your work. If you belong to a research group, use the name of the research group in your affiliation. For example, Shouq Althobaiti, an author the paper below, uses a research entity's affiliation, "Centre of Precision Rehabilitation for Spinal Pain". Other researchers reading this paper will make the assumption Shouq Althobaiti has expertise in spinal pain due to being a member of a research entity. They can then look for more of your papers by searching your name online or searching for your research entity in a quest to find more related papers (and where they subsequently will find more of yours to cite).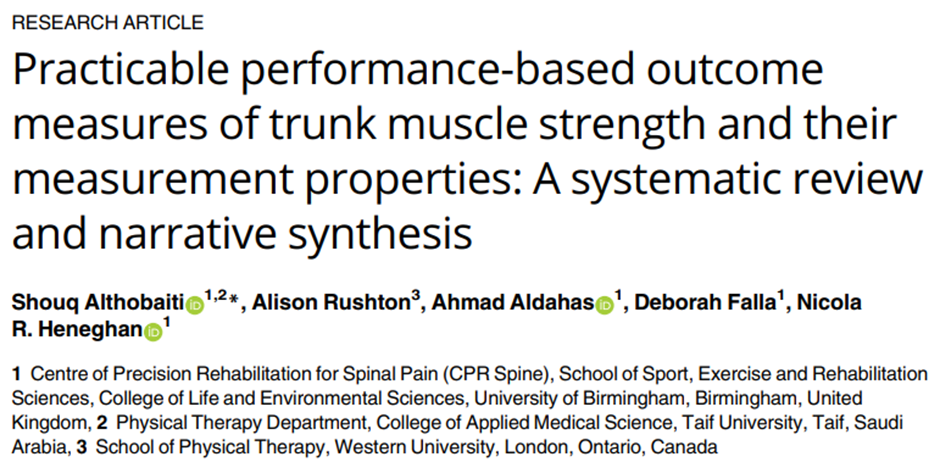 When you feel ready, consider "branding" your research niche area. Create a research hub or entity of some sort; put a website together; design a logo. We decided to do this with our research niche area in cricket, and we established the "Wits Cricket Research Hub for Science, Medicine and Rehabilitation". When publishing, we are including "Wits Cricket Research Hub" in our affiliation. All those who see our names associated with the hub know that we know something about cricket research and have probably published a few other papers in this area.
6 Optimise your paper's title
Phrasing a title in such a way as to increase citations should not support the principle of "clickbait," i.e., the idea is not to add keywords into your title just to get people to click on it. Give the reader enough information in the title – while keeping it concise at the same time – so that they can decide whether the paper is relevant to their research and whether it is worth reading the abstract. In the abstract, repeat the terms and phrases used in the title. This further increases the chances that your paper will appear when someone searches for a relevant term.
Most journals allow you to add four to eight keywords to help them index your paper. Once you have formulated the perfect title, add some additional keywords that have not yet appeared in your title. It will ensure that when someone searches for "abdominal muscle morphometry" (for example), your paper will appear, even if that term did not feature in the title of the paper (considering you added it to the keywords, of course).

Don't formulate your title as a question. Apparently, those are not cited as well, while those using colons in the title are cited more for some reason. Consider carefully if you really need to add a country's name to the title. If you do that, the paper may not appeal to the international community, although results may well apply to other contexts. However, if a topic is specifically related to a specific country, there is no need to be misleading.
7 Define your niche area and make it known to the world
Becoming known as an expert in your field will attract researchers with similar interests. Create an elevator pitch for your research niche area (more here or here) and create a compelling and clear personal profile or biographical sketch (biosketch). Be crystal clear about what problem you are addressing, what you are researching, and the impact of your research.
8 Influence what others find when they Google your name or research niche area
If someone meets you at a conference and wants to know more about you (because your conversation was interrupted by a colleague wanting to discuss the delicious scones), what will appear on Google? Google your name and see. Is what appears what you want them to see? If not, how can you change that? Google the names of a few prolific researchers in your field, and see what comes up. Is there anything that you can learn from this?
On the other hand, what appears if someone googles your research niche area, for example "cricket fast bowling injury"? Modify your biosketch to include the relevant keywords, so your profile pops up. Insert your biosketch on various platforms to ensure that you are discoverable when someone searches for your niche area – more on that next.
As a side note, do remember to open a "New Incognito window" as shown in the screenshot below, just so that your previous googles do not influence Google's results.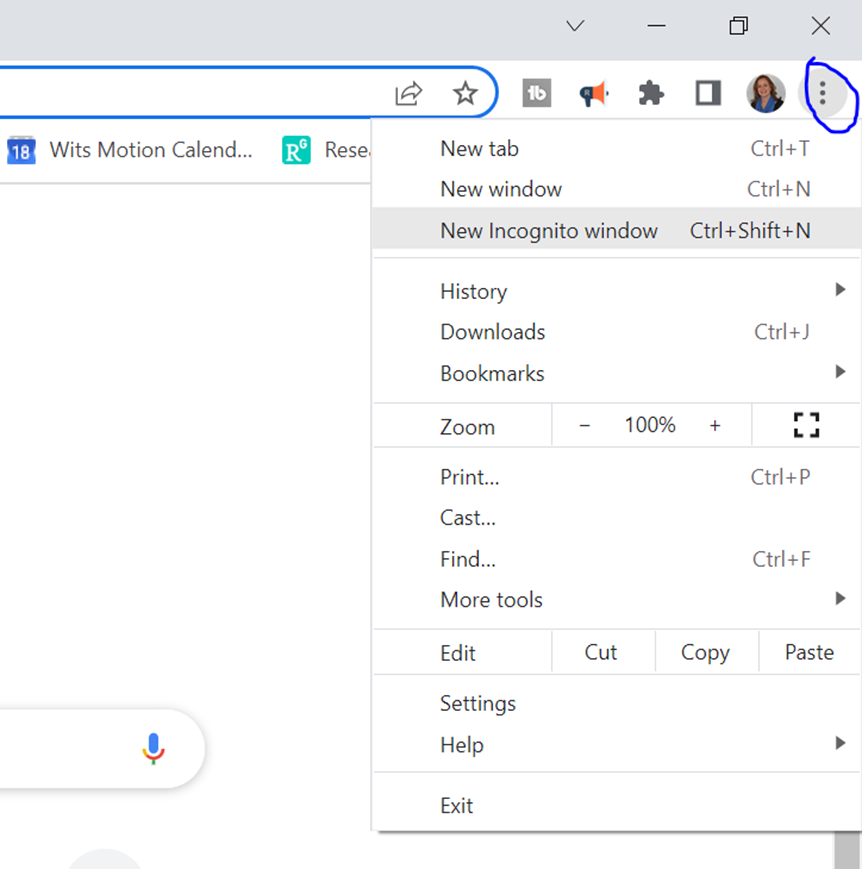 9 Create profiles on places where people can find your work
Be discoverable. Allow others to find you and your work online. A good start is to create an ORCID. After creating a profile, you'll be given a number, referred to as an ORCID, and you'll keep that number for the rest of your life. Whenever you publish a paper, the journal will ask for your ORCID. Your ORCID profile allows you to present your research interests and showcase your work.
Also, create a Google Scholar profile, as well as either a ResearchGate or an Academia.edu. If you have the opportunity to be listed on your institution's website, make use of that. Profiles on LinkedIn, Twitter, Facebook and Instagram, are optional. I'd say choose one of these to share your latest research paper with the world out there.
10 Help others to access your paper
Making it easy for others to access your paper can take some creativity. ResearchGate has a feature where researchers can request articles from one another, and most publishers allow papers to be shared one at a time. Academia.edu provides for the same type of thing.
You can also upload your paper to your university's repository, the Open Science Framework or share it with your collaborators via email. Publish your paper as a pre-print, if you have the opportunity to do so. It is worth reviewing the copyright agreement of the journal you published. More on how to do that here.
11 Share your data
Share your data on an appropriate repository – and there are many! In this way, others will be able to find and cite your data, but they will also find the paper where a portion of this data have already been published in. Before sharing your data, ensure that you have considered all legal and ethical aspects. More about data sharing here.
12 Cite your previous papers
One often feels uncomfortable when it comes to self-citation, but it should only make us uncomfortable if we cite work that does not link to our current paper. Chances are that the current paper you are writing is building on your previous work, so why not cite these seminal papers? In my case, I have previously published papers on the role of abdominal muscle morphometry in injury in cricket fast bowlers. At the same time, a more recent paper of mine used these same arguments but focused on the role of abdominal muscle morphometry in bowling performance. I cited my previous papers to support my ideas, but only those directly related to the current topic.
Although self-citations are excluded in some citation metrics, others who read your paper will scroll through the reference list and find more of your work. So, don't be shy, cite it.
13 Add your ORCID to your email signature
Featuring your ORCID in your email signature is an effective way to help others find out more about you. I have also seen some researchers add a link to their latest research paper, book or book chapter to their signatures. Some even add those to their out-of-office reply. All these are acceptable but do know where to draw the line.
14 Share your research in a variety of forums
Another way to share your research is to write blog posts about your research and post these on your website. Alternatively, offer a guest post on someone else's blog. Most website owners will be very grateful if someone is willing to provide relevant content for their website, and at the same time, you can take the link and share it on social media. Blog posts are often written in an easy to understand English with the aim of disseminating your findings to the world out there. You will refer to the original published paper, and researchers will be able to pick up on it.
Also, identify other opportunities to share your research, such as conferences, and volunteer to do guest lectures, workshops and seminars on your research topic.
15 Create networks and collaborate with fellow researchers
Working in a network of like-minded researchers will allow for meaningful collaboration for mutual benefit. You will learn from others while you share your knowledge with them, and together you will form a strong team. Publishing with others will not only strengthen your work but will also increase your number of papers and citations.
To summarise, getting more citations is not the be-all and end-all of our academic purpose, and citations must be interpreted with caution. In addition to producing high-quality research, there are ways to increase awareness of your research (and therefore increase citations) to ultimately make this world a better place.
Herewith is the video for those who prefer an auditory and visual experience:
For more value, go to https://www.researchmasterminds.com/. One last thing, if you are a (post)graduate student working on a master's or doctoral research project, and you are passionate about life, adamant about completing your studies successfully and ready to get a head-start on your academic career, this opportunity is for you! An awesome membership site - a safe haven offering you coaching, community and content to boost your research experience and productivity. Check it out! https://researchmasterminds.com/academy.